Reviews of Chuwi Vi8 Plus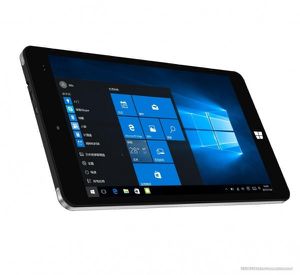 Microsoft has launched its new operation system, Windows 10 OS. Till now, there are a lot of new tablets pc coming with Windows 10 OS. Compared with Android OS, Windows 10 OS is more compatible with PC software, and if you connect a mouse with tablet, it can work as a laptop PC. This Vi8 Plus is the latest tablet pc Windows from Chuwi, and comes with new generation Intel Cherry Trail quad core processor and USB Type C port.
This Chuwi Vi8 adopts new generation Intel X5 Cherry Trail SOC, that is one 64 bit quad core and quad threads CPU, frequency is as high as 1.84GHz. This SOC adopts 14nm process technology, compared with last generation, its performance is boosted 50%, and power consumption is reduced 20%.
This unit owns one DDR3L RAM and eMMC storage with data protection technology. The working voltage of RAM is 15% lower than other tablets, its reading and processing speed is much faster.
Chuwi Vi8 owns one USB Type C port, and Micro HDMI output, unit can support WiDi wireless output technology. You can transfer the videos on tablet to TV or projectors.
Totally speaking, this Chuwi Vi8 Plus is one cost effective tablet pc, as adopting new Intel Cherry Trail SOC, its battery life is longer.
Share this post