Samsung launches new Galaxy Tab Pro S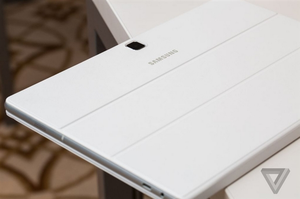 Samsung will launch one new tablet pc with Windows 10 OS, Galaxy Tab Pro S. This is the first tablet pc Windows named by Galaxy.
The design of this Galaxy Tab Pro S is quite similar as Surface, its whole size 290.3*198.8*6.3mm. Total weight is 696g.
Samsung Galaxy Tab Pro S adopts the Intel Gen 6 Core M dual core processor. Frequency is 2.2GHz, its RAM is 4GB, storage is 128GB SSD. Unit owns built in NFC and GPS function, Its operation system is Windows 10. There is one USB host on the body of this unit. Battery life is over 10 hours.
This unit has Wifi and LTE two edition, but till now, Samsung did not announce its price.
Share this post