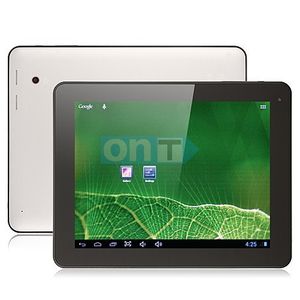 Hello, everyone, I am a tablet android reseller in Spain, you can call m Little Simon. My business is mostly focusin on tablets, but we also sell smartphones as well. In fact, we are one of the first tablets resellers here. So we have much experience. We know what brandname is high qualiy, what is not. I have been in this business for several years. Hope my experience will help you. Today, as my first entry, I would like to show you a special tablet: Colorfly CT972 Quad Core tablet pc. The special poit is it has a 32G memory. Currently, most tablets from China only have 16G in max. The screen size is 9.7 inh IPS screen:
Colorfly CT972 Q Acogedora Quad Core A31 Tablet PC Android 4.1 de 9.7 pulgadas de pantalla IPS Retina 32G 4K vídeo HDMI
Características principales de Tablet Android COLORFLY CT972 Q Cosy:
Sistema Operativo: Android 4.1.1
CPU / Procesador: Allwinner A31, 1.5GHz, Cortex A7 cuádruple núcleo, GPU: PowerVR SGX544 MP2
RAM: 2GB
Disco Duro: 32 GB de flash NAND
3G: Externo
Pantalla: 9,7 pulgadas capacitiva Retina IPS
Especificaciones de Tablet Android COLORFLY CT972 Q Cosy:
Modelo
Colorfly CT972 Q Acogedora Quad Core Tablet PC
CPU
Allwinner A31 , corteza A7 cuatro núcleos, 1,5 GHz, GPU: PowerVR SGX544 MP2
Funcionamiento del sistema
Android 4.1.1
RAM
2GB (DDR 3)
ROM (memoria)
32GB NAND
Material de Shell
Metal
Pantalla
Tamaño
9.7 pulgadas
Tipo
Pantalla Retina, IPS
Mostrar
LCD
Resolución
2048 x 1536px
Ángulo visible
180 °
Extender la tarjeta de
La tarjeta del TF hasta 32GB ampliado
Cámara
Doble cámara, frontal es de 2,0 megapíxeles, la espalda es de 2,0 mega-
Sensor de la gravedad
Sí
Multi-Touch
Sí, 10 puntos del tacto
Play Store
Sí, incorporado
Bluetooth
No
Vídeo
4K (4096 x 2160 píxeles) , el apoyo BlueRay vídeo 3D, AVI/MOV/MP4/RMVB/FLV/MKV ...
Música
MP3/WMA/WAV/APE/AAC/FLAC/OGG
Ebook
UMD, TXT, PDF, HTML, RTF, FB2 ...
Skype
Sí
Correo electrónico y navegador
Sí, incorporado
WIFI
Sí, 802.11 b / g / n
3G
No incorporado, dongle externo 3G de la ayuda: E1916, ZTE AC2736, HUAWEI E1750, HUAWEI EC122, HUAWEI EM770W
Interfaz del auricular
3.5mm
Tiempo de trabajo
Hasta 6 horas
Batería
8000 mAh
Idioma
Checo, Danés, Alemán, Inglés, Español, Polski ruso, francés, italiano, neerlandés, noruego, griego, portugués, Svenska, Turquía, coreano, japonés, chino simplificado, chino tradicional
Otras aplicaciones
Administrador de archivos, OfficeSuite, búsqueda de Google, encargado de tarea, hojeador, galería, Webkit androide, reloj, calculadora, calendario, iReader, Gmail ...
Tamaño del producto
242 x 189 x 12 mm (9,52 "x 7,44" x 0,47 ")
Peso del producto
606g
Extienda el puerto
1 x ranura para tarjeta del TF, 1 x OTG puerto
1 x puerto micro USB, 1 x puerto HDMI MINI
1 x puerto del auricular de 3.5mm
Paquete incluyendo
1 x Cargador (5V, 2A)
1 x cable USB Micro, 1 cable de x OTG
1 x Manual del usuario (Inglés, ruso, alemán, español)
Peso del paquete
1020g