Reviews of Google Pixel C tablet pc with Tegra X1 processor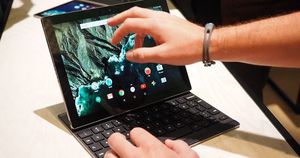 On 30th, Sept, Google officially launched its new tablet pc for office usage. Model name is Pixel C. Till now, this unit is not available for sale, but some people has disclosed its performance. This Pixel C owns one Nvidia Tegra X1 processor.
Its single core performance is scored 1395, multi core is 4345. We can compared it with Google Nexus 9 which owns Nvidia Tegra K1 processor. Its single core is 1884, and multi core is 3204. But we have to say the RAM of this Pixel C is only 3GB.
Except that, this Google Pixel C owns one 10.2 inch IPS screen, similar as iPad. Its CPU is Nvidia Tegra X1 processor and has 3GB RAM. Operation system is the latest Android M OS, Its price is starting from 499 US dollars, and people buy one keyboard which costs 149 US dollars. Google did not tell when this Pixel C will for sale, but will not be later than Christmas Day.
Share this post