SoFIA 3G-R will be massively produced in next month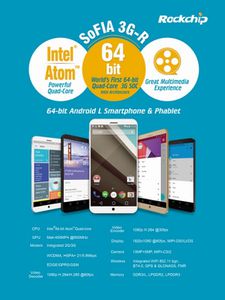 Last time, we have introduced the SoFIA 3G-R. As the demand of tablets is reduced dramatically in past year, the chipset suppliers are also in hard time except Intel and Mediatek. Rockchip is a well know solution supplier of tablet pc, and in 2015, it will move to mobile phone market. So 2015 is an important year for Rockchip.
In the MWC 2015, Rockchip launched its first product SoFIA 3G-R which is cooperated with Intel. And we have seen several samples with SoFIA 3G-R solution in the fair. SoFIA 3G-R adopts 28nm process technology, 64 bit X86 framework quad core. It has integrated the band base from Intel. It is mainly for smart phones and phablets. But this processor does not adopt the GPU from Intel, but ARM Mali-450 MP4. Now the only problem of this processor is the over heating problem.
In MWC 2015, Intel said they were working on improving the processors, the problems will be resolved, but Intel did not tell any schedule.
As the first product for smart phone market, Rockchip also care a lot about it. Today, news from Suverimax, this SoFIA 3G-R will be massively produced in April, and in the HK fair, we will see more products with this new solution.
Share this post
To be informed of the latest articles, subscribe: