One new tablet projector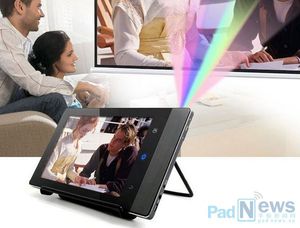 In the CES 2015 which was closed last week, tablets and smart phones are not the leading roles. But there are still some good tablets for niche market. In the CES show, one company in Taiwan launched a tablet projector named ProjectorPad P70. This unit have the projector function, users can project the data in tablet on wall.
This P70 owns a 7 inch IPS screen, screen resolution is 1024*600 pixels. CPU is one quad core processor from Mediatek, frequency is 1.3GHz. Its RAM is 1GB and flash memory is 16GB. Front camera is 2M pixels, and rear camera is 5M pixels. The performance of this tablet is not good.
This unit can project videos to wall in 854*480 pixels. In 2 meters, this tablet can project video in 72 inch. Users can enable the tablet and projector together, or just keep the projector working. its battery life is 2 hours.
Though its performance is not good, but its price is not cheap, nearly 300 euros. In fact, this is not the first projector tablet, in 2012, there is one tablet with similar function. But it is failed. But if you are interested in this P70, you can have a try.
Share this post
To be informed of the latest articles, subscribe: