Chuwi Vi8 tablet Windows launched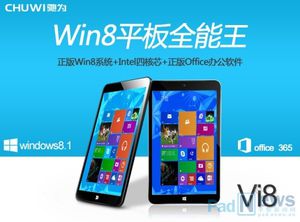 Recently, Chuwi launched a new 8 inch tablet pc with Windows OS. Model number is Vi8. Price is only 65 euros. Now, it is launched, and will be available for sale in early of Dec.
This Chuwi Vi8 owns one 8 inch IPS screen. Screen resolution is 1280*800 pixels. As the design is very compact, so, even the screen size is 8 inch, it looks quite small, and you can take it with you easily. Its CPU is the Intel 64 bits Z3735F quad core processor. RAM is 2GB, and flash memory is 32GB. Operation system is Windows 8.1 OS.
The frequency of its CPU is 1.83GHz. This processor is based on the new 22nm process technology. It has a good performance and low power consumption.
This Chuxi Vi8 can support Android OS. But now, Chuwi Vi8 is still working on the firmware for Android OS. When it is ready, users can choose Windows OS and Android OS.
Share this post
To be informed of the latest articles, subscribe: